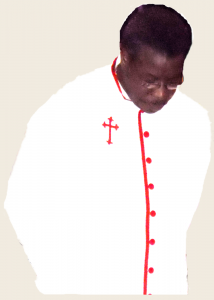 Minister David McIlwaine married to Gloria for thirty-two years. We have three children Fayette, Engracia and David Corey, and one grand-daughter Kesiah. As a young man, Minister David always did ministry work. As a child, David's parents, the late Deacon Lewis and the late Deaconess Pearl McIlwaine & Family sang on the choir at New Inspirational Baptist Church, until he got married. He then did Ministry work at the Salvation Army Temple Corps; under the leadership of Pastor Shirley Lawrence. While working with children they appointed him Young People Sergeant Major (YPSM); Boys Scout Leader, on the Choir, and the Band, Sunday School Teacher, and the Leader of Outdoor Evangelism. Later he joined Third Eternal Baptist Church and became the Leader of the Men's Choir, he completed Devotions and Training to be a Deacon and to further his Education, Pastor David attended several Bible Schools:
1. Christian Stronghold – Christian Biblical Counseling 1 & 2
2. Agape Christian Chapel – Urban Missions & Christian Evangelism, Christian Marriage & Relationship
3. New Covenant Baptist Church- Christian Maturity
At Freedom Christian Bible Fellowship he became a Deacon for two years, then the Leader of the Deacons and Deaconess Ministry, Leader of the Men's Prayer Breakfast Ministry, Leader of the Men's Bible Study and on the Executive Board of Transforming the Minds of Men under the guidance of Apostle Gilbert Coleman, Jr.
Pastor Paul Jinks from United First Born Baptist Church license David Mc Ilwaine on September 2nd, 2004 to be a Minister. Minister McILwaine was released from Freedom Christian Bible Fellowship to join Second Nazareth Missionary Baptist Church under Pastor Joe L. Holley. There he formed the Men's Ministry. Minister David McILwaine is an Anointed Man of God , who Speaks the Truth with Boldness and Love. He Loves to lift the Savior Up & give God thanks. His purpose is to Live by Faith, have a Heart of God, and Encourage everyone he meets.
On February 12th, 2012 he was chosen for Pastor-Elect of Holy Trinity Baptist Church.  The Installation Services took place at Holy Trinity Baptist Church on April 29, 2012.