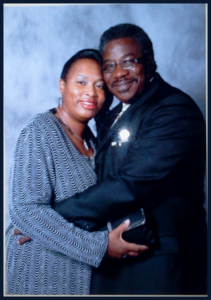 "Whoever wishes to become great among
                          you shall be your servant; and whoever
                          wishes to be first among you shall
                           be slave of all. For even the Son of Man
                          did not come to be served, but to serve
                          and to give His life a ransom for many."
                                  - Mark 10:43-45
Hello and Welcome to Holy Trinity Baptist Church, I am indeed honored and feel truly blessed to have been asked to "serve" my family in the faith. The Bible tells us that those who are given these greater responsibilities of service should remember the divine principle that: "Everyone to whom much was given, much will be demanded of him," Therefore, to the praise of God, we welcome all to come and serve within the congregation by taking the lead in showing love to one another, being long-suffering with all, displaying tenderness and compassion and standing with me as I begin my journey to "serve" God's flock here at Holy Trinity Baptist Church.
We Welcome you to Holy Trinity Baptist Church
We Welcome Everyone
With Listening Ears
We Welcome Love For One Another
We Welcome All To Come Celebrate Christ With Us
We Welcome Only Doing Things God's Way
We Welcome Magnifying & Praising His Name
We Welcome Encouraging The Fruits Of The Spirit
(Galations 5:22)